Payroll Outsourcing Services
What is Payroll Outsourcing?
Payroll outsourcing service is the process of using a payroll outsourcing company to manage Payroll administration. It is also used for compliance functions of all employees. It is crucial to note that payroll outsourcing services do not offer a local employer of record for the foreign company.
How Payroll Outsourcing India Model is helping SME's
The essential characteristic of a small business is the workforce. The organizations operate on a small scale and lesser budget. Which means they need to work with limited resources and still succeed. In such scenarios, you might find blurring lines when it comes to departments and duties. Small Business Employees tend to take up various tasks of other departments besides their own.
It is widespread in small businesses that you will find an IT person writing content for the website or someone from accounts is managing the HR or recordkeeping. It is all because if an employee understands the subject and can manage tasks related to it, he/she is assigned to that irrespective of the person's core department. The same goes for HR and Payroll.
Roll of Payroll and HR Department in Small Business
Payroll and HR are the last to have a dedicated team, as this is not the case! It cannot be considered underrated as this is the department that deals with the most critical payments of the business: salaries and taxes. The HR shared services are helpful in this.
Let's say a business has assigned two people who already have their duties to manage the Payroll. Are they proficient at it? Do they know the regulations of labour/tax laws? Are they adept in salary and tax calculations? They need to be to ensure timely payment, sustained productivity, and safety from fines and penalties.
How can Payroll Outsourcing help?
As per the above example, the employees are managing a whole department besides their duties. Making sure the salaries and taxes are calculated and paid on time requires a lot of time and effort. As the employee is already dedicating their time to other work with Payroll, the productivity level can go down. To counter this, payroll outsourcing can be a solution as there are many payroll outsourcing companies in India, this task can be easily managed.
The Merits of Payroll Outsourcing.
Running and managing an in-house payroll system can be challenging for micro-companies that are still in their initial developing phase or a business without HR and accounting professionals on board. Payroll Outsourcing is an excellent method to avoid hiring additional employees or contracting with specialists. The HR Statutory compliance services are amazing in this matter.
Why Payroll Outsourcing Is A Better Option-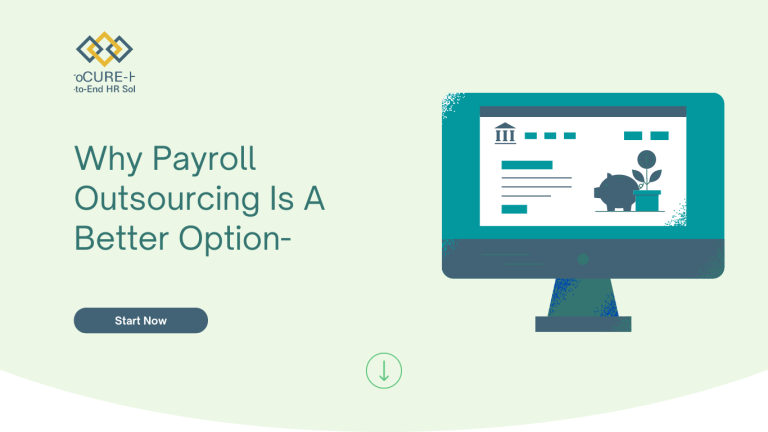 Multitasking is good, but not at all times; payroll outsourcing companies come with a team of experts who will handle the process seamlessly without, while the employees and the owner can take care of the work that is their core responsibility. If everyone focuses on their tasks and gives their undivided attention, then productivity would automatically increase.
Efficient Management in Small Business
The ease of management and administration of Payroll through personnel changes decreases or increases compensation structure and filing of reports to government authorities. Thus payroll outsourcing model helps small businesses avoid mistakes and tax compliance penalties.
When the payment and salaries are not paid on time, the employees will become unhappy, and an unhappy employee will always affect productivity. So outsourcing your Payroll and HR process to a human resource company can help in timely payments, and also these can take care of the grievances and listening to the issue of the employees. It, in turn, creates a positive environment and an increase In productivity.
Outsourcing of Payroll helps in reducing the cost of labour as well as penalties. Wrongful or late payment of taxes or ESIC and PF funds can attract fines and penalties, which can be costly for any small business running on a limited budget. Having a dedicated payroll team can help in the correct filing of taxes and other charges.
It is also helpful for employee payments as payroll outsourcing can help find glitches current compensation structure and identify where you are paying extra, which can help you make cuts that are not going to affect the value and the production of the work.
How to choose the correct Payroll Outsourcing Company?
First and foremost is the cost, which a small business should consider in identifying the correct Payroll Outsourcing Company in India — as for the small business company owners getting the solution at a reasonable cost is the most crucial part. Most companies charge every month. A business owner needs to check what all other payroll outsourcing costs are involved in the process. The business owners must analyze these prices and then come to a decision.
Services Coverage
The next point you need to take care of is that all services are included in your monthly cost. If the company is offering to cover the compliances (State and Central), is the company offering any HR software for free, etc. Identify the best services that are suited to your needs and then finalize the service provider.
Based on requirements, a business can customize the payroll service model they outsource while keeping control of other aspects.
As a small business owner, the focus should be on getting the foundation right to grow your business. It can be done by having a proper payroll partner as managing payroll could be a challenging task, and you need experts by your side to help you manage the same.
Payroll outsourcing services can prove to be a brilliant and efficient step in boosting your overall growth, but if and only if the steps taken are calculative and well thought out. If it is done right, then it can prove to be a great foot forward in the right direction to building your Payroll outsourcing small business to something big.
Advantages of Outsourcing Payroll
The benefits of outsourcing payroll for small, medium, and large companies are plenty, and many businesses use this type of service in western countries. Several advantages, such as cost and time savings, filing of reports, and avoiding compliance issues, make Payroll outsourcing a popular service.
Disadvantages of Outsourcing Payroll
Outsourcing payroll does not guarantee compliance with taxation, immigration, or labour laws in the host country. The payroll provider doesn't offer an in-house employment entity, so incorporation is still necessary along with registration and other compliance measures.
Other disadvantages are :
Security issues,
Lack of service quality or timely reporting,
Losing control of compensation and employee data.
These can be overcome through thorough research of the Payroll providing companies in the country and selecting the best firm available in the market.
How Can ProCURE HR Help?
We at Procure HR can help you get these services at a reasonable cost; our packages include support for Small to large corporates. We are your one-stop HR solution provider in India. To know more about our services offered, click here.
Merits and Demerits of Payroll Outsourcing
Gone are the days when small business owners had to strain their necks working on the payroll for their employees just because they could not afford an accountant. Today, businesses have several options for handling payroll. Even small business owners no longer have to juggle payroll along with dozens of other responsibilities, thanks to payroll outsourcing. If you are a small business owner and unable to decide whether outsourcing payroll is right for you, read on to know more about the merits and demerits of payroll outsourcing so that you can make a more informed decision.
Merits of Payroll Outsourcing
Allows for more payroll services to be offered to employees – When you make a shift to outsourcing payroll to a company that specializes in accounting, it can allow your small business to offer additional services to your employees. This can include 401k contribution deductions or direct deposits that they may not know how to do on their own.
Taxes become easier to file – The main advantage of outsourcing payroll is that it makes filing payroll taxes a lot easier for small businesses. In addition, certain businesses may also find that they can outsource the process of filing taxes to focus their energies on other pressing matters.
Saves Time: Payroll is not just tedious but also time-consuming. No wonder it ranks as the second most costly administrative duty. When you outsource your payroll, you will save enormous time and effort.
Cost savings – When a small business handles their own payroll, they also need to look into costs of calculating wages, printing pay stubs, issuing paychecks, maintaining financial reports, paying payroll taxes, etc. However, an established payroll company will take care of the entire payroll package for you at a quarter of the price you would pay to do it yourself.
Offers Greater Security – In today's world, data security is a great concern for not just employees but employers too, and outsourcing can give a small business a secure data system that they can establish for themselves. A single outsourced payroll contract can provide backups, servers, and several security technologies to protect employee data.
Demerits of Payroll Outsourcing
Difficulty accessing employment and wage data – While outsourcing payroll in most cases is advantageous to a small business owner. However, depending on the service provider you choose, you could encounter hurdles when accessing data since this information is stored on a server that does not belong to you.
Delayed corrections – If you spot a mistake in your payroll, you may have to wait for the service provider to rectify it instead of making the changes on your own. If the payroll firm does not respond as quickly as you wish, it may call for anxiety and dissatisfaction.
Risk of payroll vendor going out of business — It is not uncommon for many payroll outsourcing services to go out of business. It does happen, especially with a ton of competition. In such cases, there exists the possibility of losing access to your payroll data and money.
If you own a small business and are considering outsourcing your payroll, Procure HR is the right choice for you. We are one of the best payroll outsourcing companies in the country and offer affordable and reliable payroll services that you can trust. Call us today to get more details on the many packages we offer.
What are the payroll process services?
Payroll processing is one of the most critical services a business needs. Payroll services are in charge of keeping the payroll up to date, including deductions, bonuses, taxes, etc. However, they are also in charge of keeping financial records. It is one of the most crucial aspects of maintaining a company's balance. Without payroll administration, the firm will never be able to produce profits or keep its finances in order. It is also a complex and time-consuming process. It is why most companies outsource this work to experts in the field. If you are getting paid every month without delay, your company has hired an accurate and effective payroll manager or outsourced it. We have effectively rolled out our payroll services as all our clients and employees are pretty happy with it.
Is outsourcing payroll processing right for your business?
Outsourcing payroll is the process through which businesses outsource payroll services to professionals in the industry. It will be a major benefit to the organization because it will save them a lot of time, physical workers, and money. Another significant benefit is that experts are more efficient when compared. That simply means that they will make fewer mistakes. Outsourcing these days is dependable and yields results. It is the reason why many businesses do it. And if you are a company, then profit is one of your primary goals. Some companies specifically work on providing payroll outsourcing services. These companies are used to make the payroll system more accurate and efficient. Thus, needless to say, that payroll processing is right for any small, medium, or large-scale business.
How much does outsourcing payroll cost?
Businesses are focused on the payroll since they are the aspects that determine employee satisfaction with the organization. For the sake of efficiency, most businesses outsource their payroll. In terms of pricing, they may be charged based on frequency. The frequency refers to the number of times you will be paying your employee. The payroll management team will charge you every time you pay your staff.
Some businesses charge you based on the number of employees you have. It is becoming more popular in businesses since it saves money for the corporation. Fixed price is the last technique. The fees are set each month, regardless of how frequently you pay your employees or the number of staff. These are some of the factors on which the payroll pricing depends. But we cannot give you the exact payment details until we know all the details related to the company. It is, in a way, quite cost-effective because the benefit that it brings are nothing in comparison to what it costs.
What makes a good payroll system?
Ans) A variety of factors determines a payroll system's efficiency. The first and most crucial consideration is the system's accuracy. If the payroll system is inaccurate, it may result in errors in your payments and other issues. Keeping records is the second most critical feature of a payroll system. It should be able to retain accurate and efficient records of employees, salaries, and deductions. The third essential requirement is that these payroll systems be able to be automated, making them more efficient. It is up to the companies to ensure that their payroll system is entirely accurate and efficient. If they overlook this point, this could lead to millions of dollars in loss to the company. To avoid such losses, a good payroll system is rather the only solution.
How to Effectively Manage Payroll Services?
There are several methods for increasing payroll efficiency. It may get accomplished by automating the payroll system. The second approach is to eliminate the usage of paper. Companies must also solve the challenge of selecting the proper and precise. For that, the companies must also engage qualified payroll professionals to assist them in managing their payrolls. However, outsourcing is the most significant way to ensure efficiency. These are just some of the factors, and there are many more factors that companies consider while outsourcing their payroll or making their payroll more effective. All in all, payroll outsourcing services bring in benefits that are beyond imagination.